Film fans already had more movie screenings than they could attend. Now with the (re)opening of St. Anthony Main movie theaters as MSP Film at the Main, they have even more—and even cooler—cinema options.
Screens scattered across the metro reserved for under-the-radar films. Easy access to repertory theater. Multiple festivals celebrating independent, experimental and homegrown works. Workshops, grants and support for aspiring and professional filmmakers alike. This is Minneapolis and St. Paul, this is Filmtown… find your seats.
How'd the Twin Cities get to this place where there's more quality film to consume than it can handle? Those in the industry hail the late cinefile Al Milgrom for planting the seed of independent and international film appreciation in the Twin Cities. He formed the U Film Society—the original iteration of what is now the MSP Film Society—in the 1960s. Since then, options for consuming independent, local and international film in Minneapolis and St. Paul have stealthily increased over the decades to build the spectrum of choice viewers enjoy today. And the Twin Cities isn't just full of folks watching films—they're screening and even producing them.
Nothing quite encapsulates the strength of the scene like the Film Society's recent decision to take over operations and programming at the St. Anthony Main Theatre. The organization has presided over one of the theater's screens since 2009, but according to Programming Director Jesse Bishop, the society had long outgrown the single screen.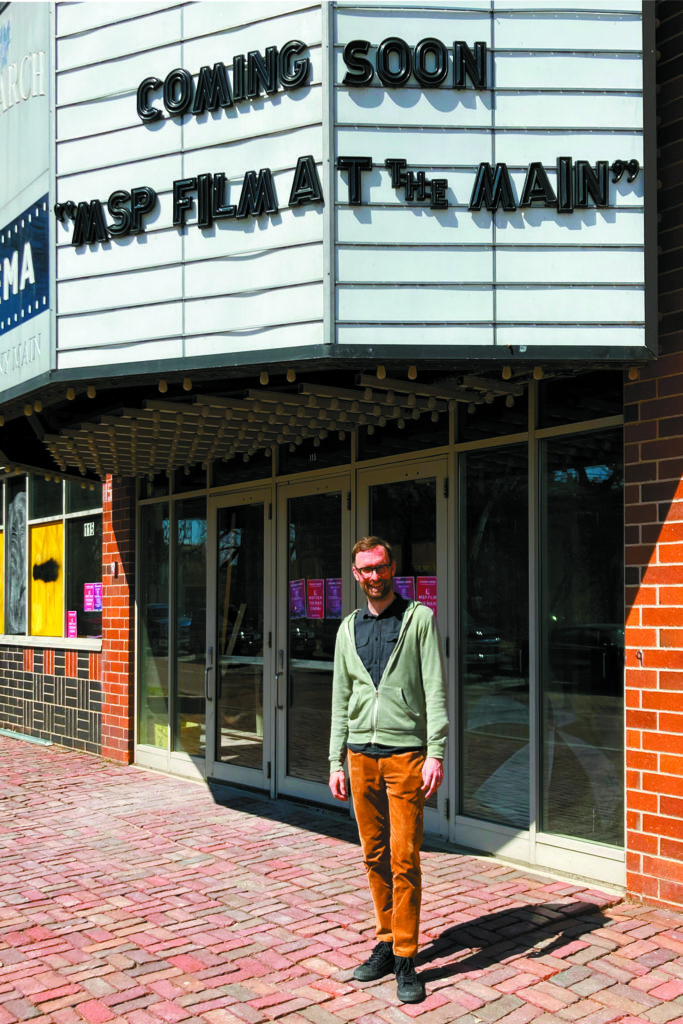 "Despite the constraints, for over a decade we maintained an ambitious slate of new international, independent, documentary, and specialty films and events on our screen," Bishop says. "Fast forward to last summer and the stars sort of aligned for us to create the opportunity to transform into MSP Film at The Main."
As of May, all five of the theater's screens are dedicated to Film Society picks—which means a complete takeover of International Film Festival selections when the 2022 festival, the Film Society's hallmark event, kicks off May 5. In advance of the unveiling, they've zhuzhed up the theater with refreshed common spaces as well as improvements in picture and sound quality. Additional plans to increase collaborative, youth and artist-focused programming are also taking shape.
"We want to welcome folks back into a theater that feels like a new era has begun," Bishop says.
"I often say that we present 'festival-style' programming 365 days of the year," he says. "So, for lovers of movies and fans of the programming we offer, it will be an opportunity to experience this in a much bigger way."
The 2022 festival—themed 'Shine Through' as an homage to the persistence of art amidst the pandemic and its effects—features over 200 films that encompass fiction, documentary, animated, and short-form works from around the world. The festival is bookended by features Phantom of the Open, a biopic from the U.K. that follows a hapless British Open Golf Championship hopeful, and Paulie Go!, a runaway teen comedy that honors the austere landscape of Northern Minnesota.
"To me, the theme is about persevering—especially through the last couple of years—and the magic that the bright light of the movies on the big screen represents," Bishop says.
While the Film Society's expansion signals a significant jump in screen volume, they are joined by a robust collection of other longstanding and equally active organizations dedicated to local and independent film production and exhibition. The Twin Cities have the Parkway, which adds delightful fanfare to iconic film viewings (think pre-show themed trivia or live music). It has the Walker's Moving Image Series, which curates a variety of programming including conversations with high-profile filmmakers, experimental film screenings and a series of Indiginous-made works. It has the Alamo Drafthouse for our luxe viewing needs. And there's the Trylon, our sparky wisp of a theater that delivers a dazzlingly diverse roster of repertory film. John Moret has overseen the repertory programming at the Trylon Theater since 2014. The Trylon, snugged into a corner along Minnehaha, was founded as a 50-seat microtheater in 2009 (renovations more or less doubled their capacity in 2017). They've maintained a commitment to showing primarily 35mm film, running themed film series every week, from their annual Hitchcock Festival to career highlights of Old Hollywood siren Gene Tierney.
Moret says he's excited to see the Film Society expand leadership because of what he sees as a marked dip in independent film viewing opportunities that has yet to be filled since the Landmark Theatres stopped paying rent and pulled out of Edina and Uptown theater operations mid-pandemic.
"Those three theaters gave the cities ten screens on a weekly basis that audiences could see some really interesting stuff on …. Anything that was going to open in New York was going to open here," he says, adding that since Landmark's departure, "it's been a movie desert."
MSP Film at the Main presents the potential for an injection of reinvigoration that will reverberate through the entire film community. Moret explained that theaters like the Trylon need independent theaters like MSP Film at the Main—and vice versa.
"I'm hoping by opening that space that's well managed and well thought through that it does provide what's missing here," Moret says. "Those films and industries bleed into each other and make each other stronger."
Bishop echoed this sentiment.
"My only hope is that it lifts the scene and encourages more people to be curious and act on that curiosity," he says about the MSP Film at the Main's opening. "As more folks continue to discover the wide world of cinema from the many perspectives, places and styles that we share communally, on the big screen, they then see what's happening at the other great venues in our community and take a chance there, too."
Running parallel with the breadth of viewing options is an increasingly accessible and inclusive path for local filmmakers to make their own work. Two prominent organizations uplifting the industry are the Twin Cities Film Festival, a nonprofit that promotes film production by local artists and hosts an annual October festival celebrating independent American film, and FilmNorth, the largest filmmaker service organization in the Midwest, which focuses on fostering Minnesotan filmmakers by providing materials, grants and workshops.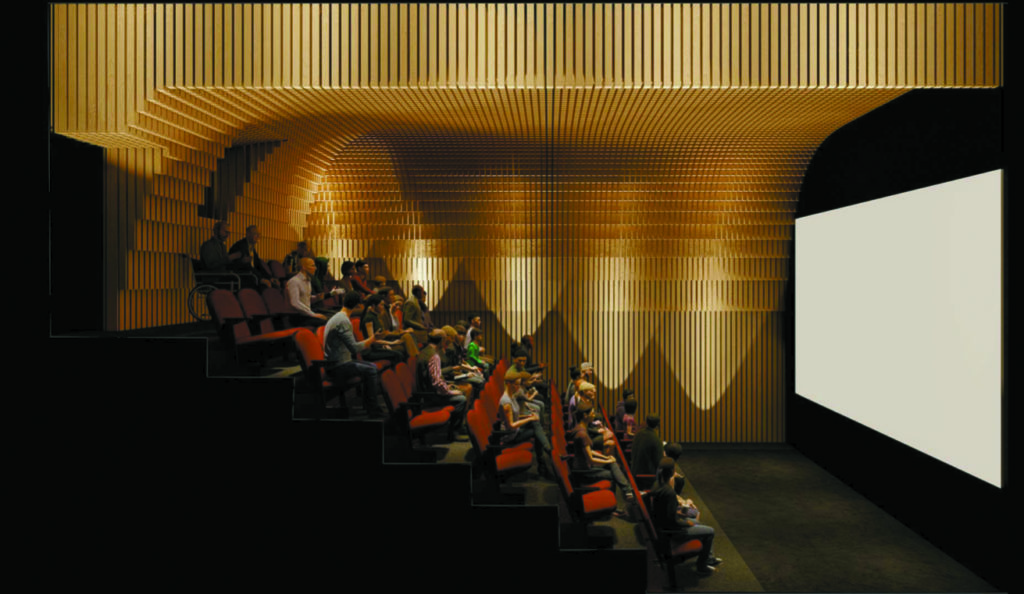 Executive Director of FilmNorth Andrew Peterson spoke to the advantages of filming in Minnesota and the qualities that MN-made directors inject into their work. The organization's screenings invite viewers to experience films made by their neighbors.
"I often tell young filmmakers that the film industry values unique voices and points of view—and to embrace their Minnesotan voice," Peterson says.
FilmNorth just announced efforts to further support and uplift these voices by establishing a permanent home in a historic building in the Creative Enterprise Zone. Plans to renovate include classrooms, augmented reality technology, and indoor and outdoor theaters to strengthen and support the connection between local film and audiences. The move will also increase opportunities to collaborate with groups that foster underrepresented voices in the film industry.
"I often compare the film industry to a pipeline for talent—exhibitors are at the end of the pipeline," Peterson says. "And when a pipeline is broken, you don't fix the end of it, you fix the beginning, which means putting cameras in young people's hands and telling them that their stories matter."
This increasingly sophisticated landscape leaves the Twin Cities with an abundance of chances to catch a flick—a type of screen time that is markedly different from the kind we have all been seeking comfort in these past two years. And while streaming offers increased accessibility, we've been missing out on the spontaneous allure of pre-movie trailers and the humanizing benefits of experiencing and reacting to film in real time with others. The theaters crave it as much as we do.
Bishop explained it this way, expressing what we are all seeking from each other and the places that welcome us: "Bottom line, we aim to create meaningful experiences of coming together."
See exactly what an abundance of movie riches looks like with these upcoming screenings: