WORDS BY MARTIN DEVANEY
• • •
Typically falling on the third Saturday in April, Record Store Day has had a large hand in the vinyl resurgence over the last decade-plus, as baby boomers hauled dusty vinyl from the basement, college students plugged in their first portable turntable in dorm rooms, and high-fidelity hipsters shrugged with an 'I told you so' glance. Though we'll be elbowing our way in among our wax-obsessed brethren on April 22, we here at DISPATCH celebrate the true keepers of the flame in this vinyl revolution year round: the independent record stores of the Twin Cities. Come along, fall into the trance of flipping through the bins. It's good for the soul. Make sure to check store sites and socials for more details on events and adjusted hours, and the DISPATCH events listings.
Agharta
2512 University Ave. W., St. Paul
www.aghartarecords.com
One of the two stores close to the University/280 border of St. Paul and Minneapolis, Agharta often has a goldmine in their recent arrivals bin. There's always a fresh collection cycling through their well-curated bins. As a something-for-everyone stop, there's a great balance between new and used titles, as well as a vast selection of rare and collectible records. And for those of us just starting out or not trying to break the bank, there are deep discounts in the "dig room." The friendly and knowledgeable staff will make you feel welcome, whether you have a pressing question about a certain…pressing…or just wanna be left alone.
Barely Brothers
783 Raymond Ave., St. Paul
barelybrothersrecords.com
The other store that sits just on the St. Paul side of town, Barely Brothers has exemplified the indie store spirit since opening in 2014. Known for their regular in-store performances on the built-in stage, the store has become an all-ages option for bands and artists at every stage in their career. The store itself has the classic, broken-in feel you'd come up with if you were writing a script about a record shop. Every inch of space is expertly used, though the focal point is the wall of 45s. Need that Pavement B-side? The Clarence Carter song you just heard in the store? Mike and the Mechanics' 'All I Need is A Miracle?' You're probably covered.
Owner Mike Elias (a veteran of several years at the Electric Fetus) also rides the airwaves of the Twin Cities every Sunday morning for the Time Tunnel at 7 AM on 92.1FM WDGY, as well as on Barely Brothers Radio online, 24/7. He even occasionally DJs vinyl in person as DJ Father Time, most recently on Third Thursdays at Dark Horse in Lowertown.
Cheapo
71 Snelling Ave. N., St. Paul
170 89th Ave. NE, Blaine
2600 Nicollet Ave., Mpls.
cheapodiscs.com
With their square footage, volume, and having just celebrated its 50th anniversary, Cheapo is a heavy hitter in the lore of local record stores. Though each store is aesthetically similar, they all have unique inventories, curated by some of the most knowledgeable record folks in town. The stores are vinyl heavy, though if you grew up hypnotized by the click-clack of browsing the CD bins, they carry a large selection (as well as cassettes). Cheapo is also a great hub for folks adorning their dorm rooms or practice spaces with their musical heroes: posters, patches, T-shirts, and the like. As for Record Store Day, the Cheapo staff has seen it all.
"The first year, our distributor called and explained the concept of Record Store Day," remembers St. Paul store manager John Ewing, a local vinyl legend himself, dating back to Root Cellar Records. "He had ten or so titles available and I took three of each and that was it. Best $250 Cheapo ever spent."
"The most dedicated customer I ever saw," chuckles Ewing, "was the morning of one of those Aprils with decent snowfall and it was about 10 degrees. It was miserable. I got there to open the store and instead of 75 people waiting, there was just one lone soul sitting in a lawn chair, in a full-on snowsuit. I just gave him a hearty fist bump. He deserved so much more than that, especially when I saw that he just bought a Smiths 12-inch that we had plenty of."
Bonus fact: A couple of fellas named Mould and Hart met at the St. Paul location in 1978.
Caydence Records and Coffee
900 Payne Ave., St. Paul
caydencemn.com
Coffee and Records? Classic combo.
"We love to see the really gung-ho people lining up ready to pound coffee and shop records," says co-owner Mat Graske. "I usually bring some coffee out to the first few people in line."
Graske, who moonlights as the drummer in local band Pill Cutter, opened Caydence in 2016 with Gregg Schmidt on the upward swing of a Payne Avenue revival. The vinyl selection splits the front of the space with the coffee shop (killer breakfast sandwich) and offers up a little bit of everything in the space. There is a slight lean toward punk/post-punk/hardcore in the inventory, but you can just as well find a cheap Madonna 45 or check out the monthly-rotating display wall (this month: 70s dudes). They are very supportive of local releases, as well. Caydence truly stands out with an actual venue space in the back that hosts regular all-ages shows, including Record Store Day events. For those in line for the 8 AM opening, expect to hear The Godfather soundtrack as you enter, as is Caydence tradition.
"An eerie way to start the day," says Graske, laughing.
—
Disco Death
721 W. 26th St, Mpls.
discodeathrecords.com
Dancing forth from the ashes of Dead Media, Disco Death has settled in as the record spot nearest to the famed rock 'n' roll intersection of 26th and Lyndale. Tucked behind the CC Club, the space not only operates as a purveyor of new and used vinyl and cassettes, but as a coffee shop (fantastic cold brew) with a small seating area. Speaking of Dead Media, they share the space with Basement Lab, a full-service film processing center.
—
Down in the Valley
8020 Olson Memorial Hwy., Golden Valley
13633 Grove Dr., Maple Grove
downinthevalley.com
One of the few micro-chains of the local record scene, Down In the Valley has been a rock 'n' roll dreamer's paradise since 1972. A friend recently described the wonder on his eight-year-old's face upon their first visit, and it's a look the clerks know well. With gifts and every accessory imaginable, part head shop and bookstore, both locations have a vast vinyl selection. Box set fanatics take note: they carry a ton. The excellent selection of vinyl accessories helps collectors keep their records clean, organized, and displayed, and frequent customers can join a rewards program for discounts and exclusive offers, earning points with each purchase.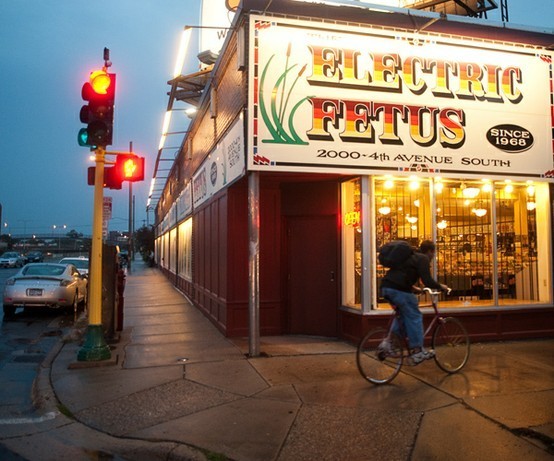 Electric Fetus
2000 4th Ave. S., Mpls.
electricfetus.com
Possibly the only lock for the Mount Rushmore of local record stores (argue amongst yourselves for the remaining three), Electric Fetus has kept Minneapolis on the national record store map since 1968—National Lampoon even singled them out for having the worst name for a business. Though the origins of said name are foggy, the legendary status is intact. And while the St. Cloud and Duluth outposts have sadly closed, the original still stands, fending off not only the ever-changing market trends, but also an actual tornado several years back.
The host of scores of storied in-store performances, the Fetus is also one of your best bets for exclusive releases, be it a signed Taylor Swift release or special store-specific edition of the latest Poliça LP. Also, roughly 36 percent of local musicians have worked here over the years.
Extreme Noise
407 W. Lake St., Mpls.
extremenoiserecords.com
Founded in 1994 and in its current location since 1999, Extreme Noise is your punk rock stop in Minneapolis. Through an endless array of seven-inches and extensive new and used catalogs of punk/metal/indie LPs, the store also has an awesome selection of books, zines, and magazines (recent acquisitions: Mark Lanegan's autobiography and the 33 ⅓ book on Double Nickels on the Dime).
The all-volunteer staff holds court at the counter of the co-op that reinvests all its profits back into the store and the local punk community. Though the store is somewhat genre-focused, it is all about inclusivity, and a beacon for the community to find out about local shows, meet like-minded friends, and learn how a scene stays sustainable.
Hi-Fi Hair and Records
1637 Hennepin Ave., Mpls.
hifihair.com
Nestled in Loring Park, Hi-Fi is as much a museum as a record store. With local icon Jon Clifford at the helm, you're unlikely to leave here without a smile. The walls are adorned with original posters for shows you've only heard about alongside prints from local music photogs. Dig through the bins and find out-of-print treasures in with moldy oldies. There's a comprehensive local selection, and we haven't even touched on the charitable side of the shop: Clifford, who also houses his hair salon next door, has boundless energy for giving, whether it's raising funds for the guitar-slinging songwriter Slim Dunlap (his Pleased to Meet Me Tour plaid suit lives at the store), or taking donations for dog adoption organizations.
During warmer months, Hi-Fi hosts live shows in the alley behind the store on the loading dock stage. It's become an outdoor show staple of the summer, as Clifford introduces bands, makes sure everyone has a cold beverage, and works the crowd like a midwestern Ron Wood. Over the years, the shop has seen supervision from the likes of the late producer, archivist/label/record store owner Terry Katzman and former First Ave. head honcho Steve McClellan. Rock 'n' roll lifestyle at its finest.
Hymie's
3820 E. Lake St., Mpls.
hymiesrecords.com
Any Lake Street lore has to include Hymie's Vintage Records. Opened in 1988 by Jim "Hymie" Peterson, the store moved to its current location in 2010. Owner Adam Taylor has been behind the counter since 2019, weathering the global pandemic more or less out of the gate. Now settling into a pace, the multi-room shop has recently been rearranging its layout, while keeping its cozy charm intact.
New and used LPs from every possible genre fill all corners of the store, with a wall of cassettes, some CDs, and likely the largest library of music books of any of the stores on this list. The back room is transitioning to a discount/crate digger cave, with eventual space for accessories and T-shirts, and the built-in stage has begun to host periodic live music once again. Hymie's carries a huge inventory of 45s and has one of the best options for classical LPs in town. As ever, the shop supports local artists with a sizable selection of MN vinyl too.
Know Name
6009 Portland Ave., Mpls.
knowname.com
Walking into Know Name feels like visiting your cool uncle's basement or garage back in the day. Lest you feel dazed or confused, here are the facts: The south Minneapolis mainstay has been a warm, welcoming shop since 1977. A second Dinkytown location closed in 2006 (Dinkytown once had multiple record stores!), but the original spot has ridden the rocky waves of the record industry through it all. Vinyl, cassettes, CDs, and assorted ephemera make this a must stop for any true rock 'n' roll head.
Mill City Sound
812 Mainstreet, Hopkins
millcitysound.com
A two-floor treasure trove awaits vinyl lovers in downtown Hopkins at Mill City Sound. Opened in 2014, the shop has the sort of collectible display wall that makes the most seasoned vinyl vet salivate. Ever want to feel nervous holding a copy of The Velvet Underground & Nico? You can! You can find a used copy of an Emmylou Harris LP just as easily. Frequent buyers are encouraged to join their Vinyl Club for discounts and other perks. As their website states, "our goal is to have everything you want—and what you least expected to find."
A corner of the front of the store houses turntables and other equipment to help listeners get an ideal setup at home, and the basement is a haven for all things 45rpm. A special nod to collectors of the seven-inch platters, they offer little ten-packs of label-specific sleeves to match with the records themselves. Along with the shop, owner Rob Sheeley has co-founded Backgroove Records, which recently reissued International Pop Overthrow, the debut album from Chicago power-poppers Material Issue.
The Record Spot
405 W 38th St, Mpls.
Quality, not quantity—although it's self-described as the smallest record store in the city, The Record Spot definitely has a big enough selection of sed LP's and cassettes to warrant a visit for Record Store Day or otherwise.
Roadrunner
4534 Nicollet Ave., Mpls.
roadrunnermpls.com
Since opening in 1986, Roadrunner has become the place to glean knowledge from experts of the local vinyl scene. Owner John Beggs often holds court with pros that go back to the OarFolk and Garage D'Or days, as well as a cast of rotating local musicians.
In its current location near the intersection of 46th and Nicollet since 2020, the bright yellow and black building has increased the store's visibility and traffic, from Boomers with bucks to drop on first pressings to younger enthusiasts buying their first new copy of Rumours. The recent arrivals are the big draw at Roadrunner, constantly refreshed and moderately priced. As the weeks grow warmer, look for the return of weekend sidewalk sales for great bargains.
SolSta
6006 Excelsior Blvd., St. Louis Park
solstarecords.com
SolSta originally opened in 2016 in south Minneapolis as Solid State Records. In late 2020, they shortened their name and expanded their square footage in St. Louis Park. Owners Hannah and Phil Borreson built out the former Needle Doctor space for collectors of all ages and experiences, carrying new and used vinyl and cassettes, with a large selection of indie exclusives.
For the last few years, they've cruised around town in the Rockin' Roller, a small bus they outfitted as a pop-up record store. Look for an updated version of the bus in 2023 at events such as the Totally Rad Vintage Fest and the Food Truck Festival.
—
Urban Lights
1449 University Ave. W., St. Paul
Originally a Northern Lights location, owner Tim Wilson bought the store in 1993, renaming it Urban Lights, currently the only African American owned record store in the Twin Cities. Since then, it has stood as an iconic Midway landmark and source for all things hip-hop, along with R&B, soul, and jazz, and DJs can find a wealth of 12-inch singles.
Urban Lights carries vinyl, CDs, and other memorabilia and hosts in-store DJs and open mics. Posters and photos fill the store—often a location for photo and video shoots—and stars such as Beyoncé, Jay-Z, and 50 Cent have come through the doors. Bonus fact: A few fellas named Mould, Hart, and Norton used to practice in the basement back in the '80s.
Vintage Music Company
1820 E. 38th St., Mpls.
vintagemusiccompany.com
The only shop in town that specializes in 78s! Kids, 78s are the (usually) 10-inch records made from shellac that pre-dated LPs and 45s in the early 20th century. Many (but not most) record players come with three speed settings: 33, 45, and 78. Vintage Music Company has thousands. Now go watch Ghost World.
Vintage Music Company repairs exclusively tube equipment and most vintage turntables, as well as selling restored equipment and replacement parts.
White Bear Lake Records
4775 Banning Ave, White Bear Lake
whitebearlakerecords.com
A small store in the quaint downtown area, White Bear Lake Records is packed to the gills with a fantastic inventory to provide a missing spot in your collection. The store is curated by some of the folks behind the MN Record Show that takes place the first Saturday of every other month at the Hook and Ladder in Minneapolis.
Vintage Vinyl
The Twin Cities are also rich with vintage stores that carry records, often tended to by local vendors and DJs. The following list, though not comprehensive, collects a few of our favorite spots. —MD
Center For Lost Objects
957 7th St. W., St. Paul, centerforlostobjects.com
Fly Vintage and Vinyl
3900 36th Ave N., Robbinsdale, flyvintageandvinyl.com
Groovy's Minneapolis
4206 Cedar Ave., Mpls.
Mall of St. Paul
1817 Selby Ave., St. Paul
Time Bomb Vintage
3543 E. Lake St., Mpls.
timebombvintage.com
Wizard Wax
3006 36th Ave. S., Mpls.
wizardwax.net