by Isabelle Wattenberg
Warcake barely finished their opening song when a roar of appreciation fed back from the crowd at Palmer's. It's going to be a loud night on stage and off, and the sludgy dream-pop duo of Valerie Square-Briggs (bass and vocals) and Cayla Baumann (drums) couldn't be happier to set to upper volume level on a Friday night at the West Bank institution.
The show's closer was Cindy Lawson, former rocker with '80s band The Clams who has triumphantly returned with a new band and new music—a brand new, highly anticipated full-length album New Tricks—following a 25-year break. And the audience, from the trio of fresh-faced hockey dudes to a trenchcoated, aqua-haired head bopper, was also clearly happy to be there.
Warcake's rise and Lawson's return speaks to an emerging shift in the music scene: eager collaboration, freedom from cut-and-dry genres, intergenerational connections, and audiences clamoring to hear all of it.
"I don't ever want to be in any sort of box," Baumann said. "When people ask us what our sound is we're like well, we're sort of sludgy-stoner-metal-shoegaze-rock."
The duo were pacing their pre-show pints when I caught up with them, and they looked a little giddy about the show. Baumann's eyes lit up when I brought up sharing a stage with Lawson, and she took a centering breath before responding.
"You know, it's like stars in your eyes," she said. "Both of us started playing when we were in middle school and, like, young kids, so it's sort of like—this is my dream."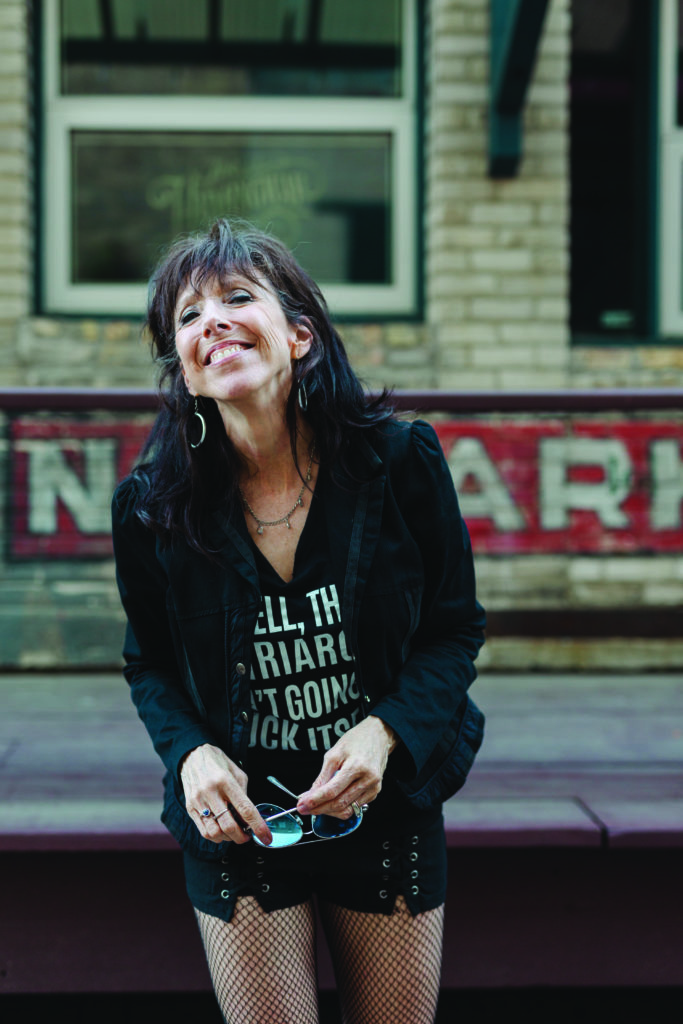 Supporting other musicians has always been a core tenant of Lawson's career. "When we were in The Clams, we had our favorites," she said. "We had Babes (in Toyland) open for us, we had Zuzu's (Petals) open for us. We wanted to push, especially women up there. And I still feel that way. And I saw Warcake and I just loved them… in a situation like this, I'm able to say, hey, come see them!"
Warcake plays with a connected energy—the opening bars of their set felt like a mini jam session. Square-Briggs balances her attention between the audience, the intense drumming, and her deafening bass through two amps on stage. As she played, Baumann wore a look of concentrated joy–indicative both of her focus on the craft and of the release it provides. (Baumann also works as a Minneapolis Public School teacher during the day, and the show landed on day four of the Minneapolis school teacher strikes—the crowd cheered them off chanting "teachers" in solidarity.)
Warcake attributes the thrill of performance not only to the connection it creates with the audience, but also to its opportunity for previously unattainable artistic experimentation. The duo is currently working on a rightfully anticipated follow-up to their last release Puce, and the songs are still taking shape.
"We thought we'd road test them a bit and let them evolve out in the wild before we actually commit them to recording," Square-Briggs said. "We didn't get to do that with our first album; it was done during quarantine so it was all just done kind of in a vacuum."
Baumann agreed. "Something that I think is really great about how we play is that some of the songs do evolve as we play them more." She looked at Square-Briggs. "I definitely feel safe allowing you to do your thing, and I know it's going to come back and vice versa."
The show kicked off with a dozen or so onlookers (some of whom, it would later become apparent, comprised the evening's second set: the playful, boisterous glam rockers The Unnamed). But the tiny triangular bar had reached full capacity by the end of the night. Throughout the evening, people greeted and mingled with each other; it felt like a long awaited gathering of old friends. I shared a table with a woman who seemed to know half the people in attendance; she wore a locket she explained she'd bought on Etsy and had customized with Kim Gordon's portrait.
The increased support for women in rock may not be new or novel to the post-pandemic music scene, but Lawson's experiences returning to the industry suggest a renewed concentration of effort.
"This label in Boston is putting out a Clams retrospective on CD," she said (they're also producing Lawson's new album this year). "Then I just signed a contract with a record label in Chicago that does reissues on vinyl. So they're going to put The Clams stuff on vinyl. And it's just like, where were you people before?"
Lawson admitted she now approaches music with a clarity she didn't possess in her 20's and helped welcome these types of opportunities. She recalled, with some head-shaking, the band's choice to self-release their second EP which meant shutting the door on the connections and influence of Suss records, who had produced their first album. The Clams were "known as a great bar band. But that's not lasting," Lawson said. To make it, it's necessary to balance recording as much as one can without sacrificing the love of the art. Warcake, she said, seems well on their way.
"I am hoping that they realize how lucky they are to have each other and to play," she said. "It's really a precious thing."