While the rest of Minnesota spends the month celebrating 100 years of Judy Garland, on Friday and Saturday Minneapolis-St. Paul will celebrate another gem of cinema that hails from the Land of 10,000 Lakes. Roger Nygard is perhaps best known for his acclaimed documentary Trekkies, about the most obsessive fans in the Universe, but he also has a long list of other award-winning films—several of which will be screening Saturday at the Parkway. There's the car salesman cult-classic Suckers with Lori Loughlin; A profile of UFO fanatics in Six Days in Roswell; The documentary The Nature of Existence, which untangles the world's philosophies, religions and belief systems; the more elusive and complicated The Truth About Marriage; even Nygard's first foray into film-making, the cult fave High Strung, which features Jim Carrey, Fred Willard, and a cameo appearance by a very young Kirsten Dunst.
Such a lineup would be enough to earn a full day of celebration here in MSP, but even more Nygard has directed numerous television series including The Office and The Bernie Mac Show. His work as an editor includes Emmy-nominated episodes of Who Is America?, Veep, and Curb Your Enthusiasm. The Twin Cities Film Festival has brought in Nygard for the marathon, and a VIP mixer on Friday night for the unbelievably cheap (only $50!) All-Day Pass holders. Even more, the first 400 people through the doors get a free DVD copy of The Nature of Existence and anyone dressed as a Trekkie or Alien gets a free bag of popcorn.
You can tell we're excited about all of it! Ahead of "Hollywood Comes to the Parkway", DISPATCH checked in with the reason for the celebration himself.
DISPATCH: How much of your acclaimed documentary film work—like the character-filled films screening on Saturday like Trekkies, The Nature of Existence, Six Days in Roswell, and more—has informed your editing work on episodes of shows like Curb or Veep?
Roger Nygard: I bring all the tricks I learned while cutting documentaries in to the editing room on sitcoms. One reason I got the job on Curb Your Enthusiasm is because the producers had seen Trekkies and had thought, "With his documentary experience, this guy might be able to handle the improvised dialog on Curb." According to post-production producer Megan Murphy, I was the twenty-fifth editor they had considered; twenty-four top editors had been found lacking in some way or had declined because of the daunting amount of footage and the level of difficulty due to the use of minimal story outlines. The editing of improvised dialogue is one of the most difficult editing challenges, and that makes the choice of editor crucial to a show's success. Veep was different in that it was fully scripted, however, the writers were on the set constantly trying alternative joke lines, so I would often have to choose what worked best from a dozen options.
One thing that stands out across several of the teasers for the movies in the marathon is that they all have at least one or two lines that are just . . . really spectacular, lines that seemingly can only come impromptu from real people. When you hear someone describing a successful Star Trek-themed BBQ with "a girl came this year" or a marriage like "She ran. I chased her. She caught me." in the Truth About Marriage, do you instantly know it's a great moment? Are these lines what keeps you coming back to documentaries?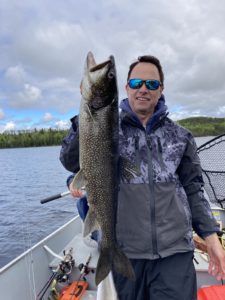 I grew up fishing in Minnesota, and I still love it (the biggest fish I've ever caught was a 49 ½" muskie on Lake Minnetonka). Filmmaking is like fishing, in that you are constantly searching, casting, writing, interviewing, looking for that great moment that you can reel in and put in the film. Sometimes it takes several hours of interviewing somebody until that great line lands. And I instantly feel it. "Got one! That one's going into the show."
After seeing some of your films, people really, really should pick up a copy of your book Cut to the Monkey: A Hollywood Editor's Behind-The-Scenes Secrets to Making Hit Comedies, which has "pearls of wisdom (quips?) from comedy luminaries such as Sacha Baron Cohen, Julia Louis-Dreyfus, and Larry David" and will be available at The Parkway. Anything you can share from that book that greatly impacted you or blew you away?
In my book I coalesced all my tricks and techniques for success in the film business, and particularly editing. Sacha Baron Cohen calls editing "the most precise craft that affects the success or failure of your jokes." Larry David told me, "When I think about doing another season of Curb Your Enthusiasm, it's not the writing that's daunting, it's the editing." Here's a piece of comedy advice from my book, that never made it into The Comedy Store docu-series, but I pulled it from an outtake, where comedian Whitney Cummings revealed her secret to understanding comedy: "Tell the truth." She asks herself, "What's the elephant in the living room? [When you were growing up,] what was the thing you weren't allowed to say? The taboo things, the things that were off limits, the things that we all experience but keep in the shadows. That's where all the meat is."
As a Minneapolis native, do you come back often, or just in the film limelight?
I try to get back to the cities once per year. Usually for weddings, funerals, or fishing trips–ideally all combined during the same week, when everybody cooperates. But unfortunately, my people have not been very cooperative.
DISPATCH cannot recommend attending several of the screenings for the Twin Cities Film Fest-hosted Roger Nygard Movie Marathon. Spring for the $50 All-Day Pass (includes admission to all six films plus an invitation to an exclusive mix and mingle reception with Nygard and other film VIPs on Friday, June 24th from 5-7PM.
WHEN YOU GO: