by Ira Brooker
Conventional wisdom holds that movie theaters are on their way out. As home theater systems have gotten more advanced and streaming services have brought a wider array of titles directly into consumers' homes, a fair number of casual moviegoers have indeed opted for the comforts of home over the hubbub of the theater.
The conventional wisdom breaks down, however, with all of the cinephiles who regard the movie theater as a home away from home. As an ongoing screening series at St. Paul's Grandview Theatre is proving, there are more of them out there than you might think.
Grandview general manager Daniel Garritsen and some colleagues started brainstorming a plan to supplement the theater's slate of new releases with a program of retro screenings back in 2018. "By late 2019, we really started to shape what it would become, and then COVID hit and derailed all of our progress," Garritsen says. "At that point, I don't want to sound nihilistic, but we didn't know if the Grandview was gonna reopen at all."
But the Grandview not only reopened, it found an enthusiastic local audience eagerly waiting for its return. By summer of 2021, Garritsen had talked the head office at Mann Theatres into letting him resurrect the classic film program, now christened Rewind Film Club. While there are other options for classic film fans around the Twin Cities — Trylon, The Heights, and Alamo Drafthouse all regularly screen older films, obscurities, and cult classics — Rewind's novel approach to curating its lineup seems to resonate with crowds.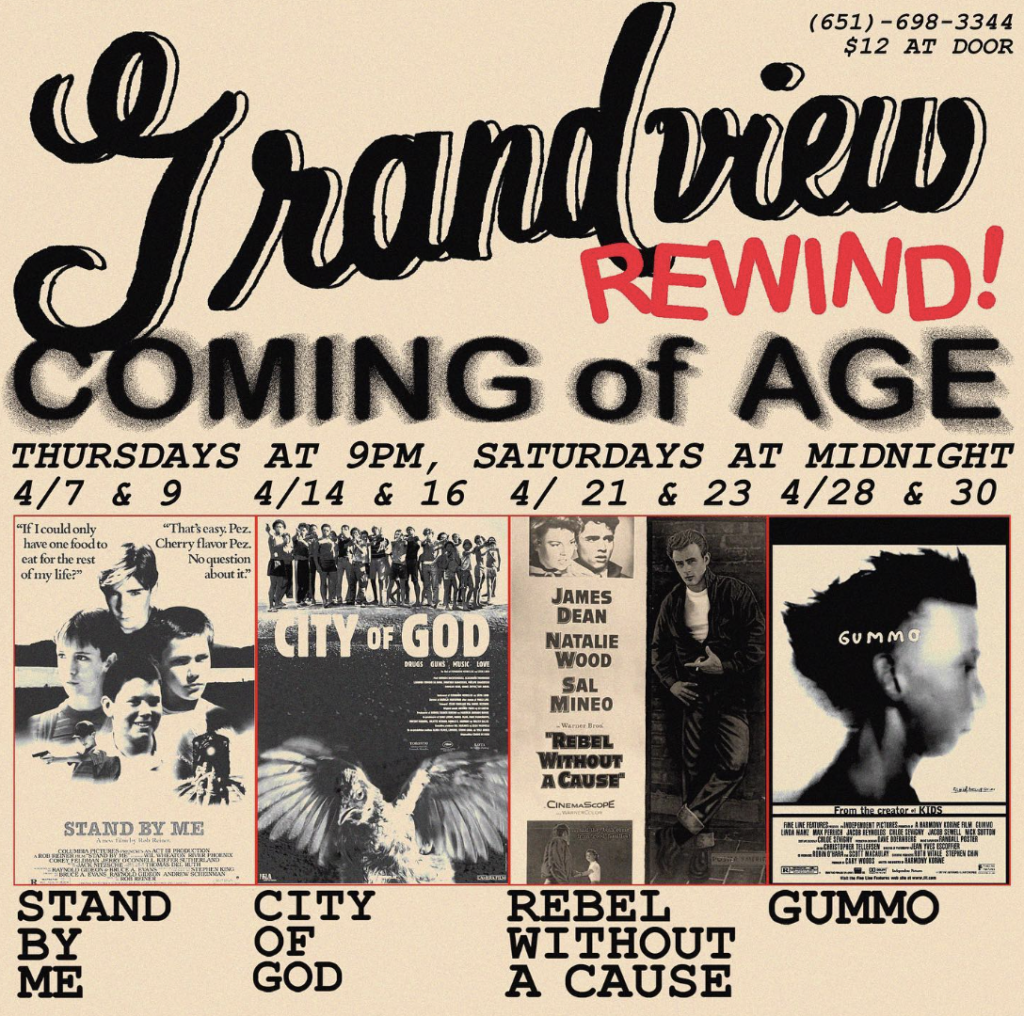 "We have themed blocks every month," Garritsen says. "Our first month was coming-of-age films, and then we did neo-noir. In June we were on to road films. Our original idea was to do a genre-defining film, a blockbuster, an art film, and then a cult film for each month." That's created an eclectic mix of titles that combines some genre staples with some less expected oddities. Stand By Me was a no-brainer for Rewind's coming-of-age month, for instance, but Harmony Korine's unsettling slice-of-starving-class life Gummo is a far less obvious choice. 
Interestingly, Garritsen says both of those films performed very well, despite Stand By Me being available to stream on Netflix and Gummo being a notoriously challenging viewing experience. That speaks to local audiences' desire not just to see older films, but to see them in a movie theater with a crowd, the way they were originally intended to be seen. Considering the marketing for Rewind has mostly been limited to paper flyers and social media posts, the program's ability to get viewers out to the Grandview is all the more impressive. 
Garritsen says the program is still finding its legs as they experiment with what works best. "We're kind of treating this like a startup even though the Grandview has been around since 1933." As Rewind heads into July with a slate of classic "Anti-Westerns," local cinephiles' appetites appear to be as robust as ever. Perhaps the eulogies for the traditional movie theater experience are a bit premature after all.
WHEN YOU GO:
Anti-Westerns start in July
Grandview Theatre
1830 Grand Avenue, St. Paul