The milestone makes for a perfect opportunity to celebrate one of the hardest working (and nicest and most talented and… ) people in the Minneapolis-St. Paul music scene.
Words by Sanaphay Rattanavong
Doc embodies one of their main approaches to the arts: a mixtape sort of person who sees things from both center stage and behind the scenes, always experimenting, always asking what if this genre mixed with that, what if this performer is billed with that, and so on.
Still nursing the lingering jet lag after playing at the legendary Viper Room in Los Angeles for Elle PF's album release show, Doc—the guitarist for the band full of national buzz—is returning to a lot of business as usual. In addition to music projects and the job responsibilities and promotions activities, Doc's radio show, Desert Islands (Wednesdays, 10 AM to 12 PM, 90.3 FM KFAI) airs its 200th episode June 1.
"It'll be kinda fun to say, 'Hey, it's summer, we hit 200 episodes,'" they say. "I didn't really expect to be here."
To celebrate this milestone, and perhaps to celebrate music and musicians in general, Doc will host Wednesday night billings at Palmer's Bar in West Bank in June (7–10 PM), with each mixtape billing bridged by Doc's solo music project, theyself. Though the billings may not make sense at first blush, Doc promises that they will: The energy will make sense, one of those things you just have to be there for, it'll coalesce, somehow. They'll include some of the best acts in town, as well as some from far afield. "I love the idea of having Leslie Rich from Belfast and Katy Vernon from London," Doc says. "And then me with my Irish Catholic background, on a bill."
Aside from feeling safe with holding these celebrations at Palmer's because of their COVID vaccinations or negative test policy, the venue holds other consonances. It was the place Desert Island's last live guests, touring from the U.K. and Canada, came to perform, as well as the last pre-pandemic lockdown space where Doc performed music. As with so much of the world, the pandemic changed Desert Islands—but, arguably, for the better.
'If you had ten records to be stuck on a desert island with, which ten would they be and why?' That's the only pre-show question Doc asks musical guests of Desert Islands. The first hour of the show features songs from those records. The second hour brings the musical guest for conversation segments. And because not all the great music from the ten albums could fit into that timeframe (Doc says some guests would fudge and name, say, twenty-five albums, while some would go the other way and give specific songs), Doc started making weekly Spotify playlists as an extension of the show.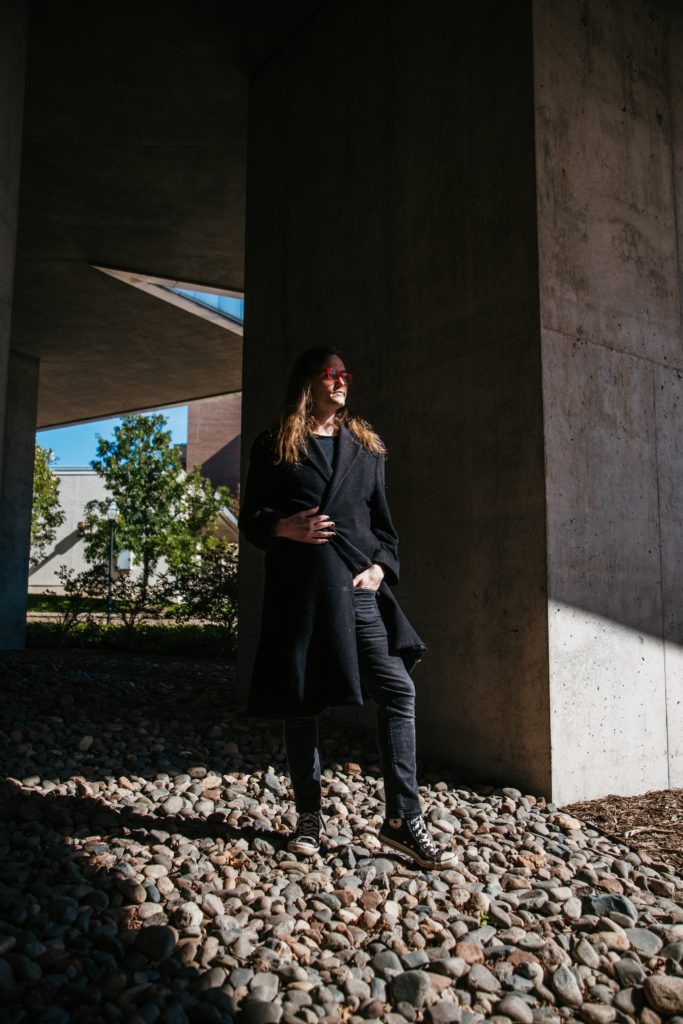 Then came pandemic lockdown and the era of Zoom. "It was [KFAI Manager and host of AM Drive] Mason Butler's," says Doc. "We got webcams, let's use them. Let's try it, an experiment." Doc admits they simply rolled with it as a path of least resistance, noting that some of the old-school radio folks balked at the idea of being on cam, since they opted for radio to avoid such things.
"In a way the pandemic kinda made the show what it was," Doc says. "That's when we started doing the Zoom calls, broadcasting what we were [previously] talking about off-mic. I'd still be doing the show without the pandemic, but I don't think people would care without the Zoom aspect, and we wouldn't have the Zoom aspect [without the pandemic]."
Doc relates how it helped them keep sane—talking to musicians about anything but the pandemic or politics, maybe about their garden or takeout. Candidness bloomed. Local musician Mark Mallman showed them props and admitted that their creativity was motivated by their depression in such bleak times. These things struck chords with viewers and listeners.
Like any good mixtape, the separate songs are known in and of their own right. "In town, people may not know I'm a musician," says Doc. "When I'm out touring, they don't know I host a radio show."
And even within the show, some only know and listen to the Spotify playlists, some the radio show, and some view the Zoom sessions. But, of course, they're all connected, perhaps held together by the same stuff that KFAI, the volunteer-based community radio station that made Desert Islands the cultural force it has become.
"I'm so proud," says Doc about KFAI. "It's people doing it just for the love of the game. The fact that so many people have resonated with this show, that they're willing to play in a dive bar on Wednesday night, is… I just don't know how to express my gratitude toward that."